The founder of Daunt Books is set to become Waterstone's new managing director. But can the self-effacing ex-investment banker save the struggling high street giant?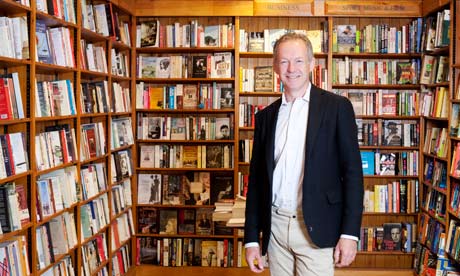 James Daunt is not an open book. He is a shy, confident, personable, highly literate ex-investment banker in his late 40s who, next month, will become the new managing director of
Waterstone's
and, arguably, one of the most important people on the British books scene. He has the sort of uncomplicated smile a child might draw – at odds with his almost military bearing (you might think he was ex-Sandhurst but he is not: he went to school at Sherborne and read history at Cambridge). I tell him he had better be prepared to endure endless puns on his surname. But exactly how daunted is he? It is 20 years since he founded Daunt Books, now a mini-chain of six distinguished bookshops and an improbable success story (growing steadily, in an unforgiving climate, and likely to hit a turnover of £10m next year). But that's still very far away from Waterstone's, with its 296 branches, 4,500 staff and a turnover of more than £500m.
He predicts it will be "pretty lonely" dropping into a huge organisation. But he says he feels "energised" – before withdrawing the word because it is "ugly". He edits himself as we go along – cares about the detail. It is 9am and we are sitting downstairs at Daunt Books in Marylebone High Street, London, the first shop he opened. He has cycled to work, as he does most days. Coffee is his breakfast. We have the world around us – in book form – on named shelves. It is a beautiful shop. But he must say goodbye to running it (although it will remain under his ownership). What's more, he volunteers that he is not about to populate the country with clones of Daunt Books – which would be impossible anyway, because each of his stores is unique. He explains that he is unambiguously against "homogeneity" – an interesting starting point for someone about to take on a chain of shops with an oppressive likeness.
Given his championing of individuality, it is no surprise that he should exult that Waterstone's has been bought not by a private equity firm but by "one man writing a cheque". It was sold, by struggling HMV, to Russian billionaire and publisher Alexander Mamut, for £53m. Mamut, who has a house in Kensington, is a regular customer at Daunt's Holland Park branch. So far, so comradely – but the future may not be so cosy. In the past three months, Waterstone's has seen an 8% drop in sales, compared to the same period last year. I tell Daunt that whenever I go into my local Waterstone's, the friendly staff seem to be trying hard but the shop has failure written all over it with its piles of wannabe bestsellers. It shouts about savings but seems, actually, to be crying out for help. Daunt does not disagree. "People keep warning me: 'You are stuffed taking on a bankrupt company. You have no chance: Amazon will cream you.'"
Full story at The Guardian.