Former publisher rubbished by Naipaul for writing 'feminine tosh' says she is not taking his criticism seriously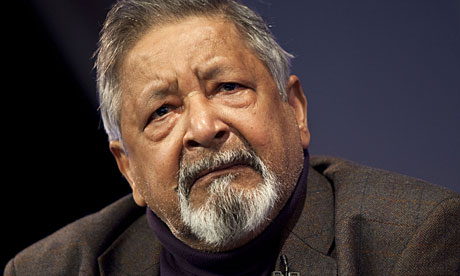 "It seems very odd. He doesn't realise what a monkey he's making of himself," said the author, 93, who won the Costa biography prize for her memoir of old age, Somewhere Towards The End, and who was awarded an OBE in 2008 for services to literature.
An astonishing outburst from Naipaul earlier this week saw the Nobel laureate, known for his long-running feuds with authors including Paul Theroux (
the pair made up at the Hay festival earlier this week
) and Derek Walcott, write off all female authors for their "sentimentality [and] narrow view of the world". No woman writer is his literary match, he said, before lashing out specifically at Jane Austen (he "couldn't possibly share her sentimental ambitions, her sentimental sense of the world"), and at Athill, his former editor. "My publisher, who was so good as a taster and editor, when she became a writer, lo and behold, it was all this feminine tosh," said Naipaul, before adding, "I don't mean this in any unkind way".
Athill, who was editorial director of the
publishing
company André Deutsch for 50 years, where she worked with authors including John Updike, Philip Roth, Jean Rhys and Margaret Atwood, as well as Naipaul, was unperturbed by his remarks.
"I was a 'sensitive editor' because I liked his work, I was admiring it. When I stopped admiring him so much I started being 'feminine tosh'," she said this morning. "I can't say it made me feel very bad. It just made me laugh ... I think one should just ignore it, take no notice really."
Naipaul has "always been a testy man and seems to have got testier in old age", said Athill. "I don't think it is worth being taken seriously ... It's sad really because he's a very good writer. Why be such an irritable man?"