Amitav Ghosh's second part of his historical trilogy is a marvel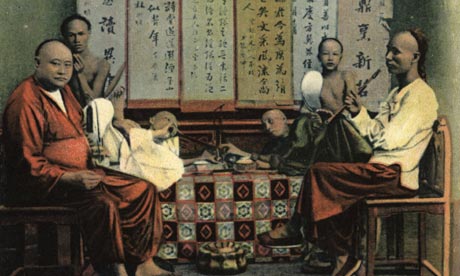 Amitav Ghosh's two latest novels carry us deep inside the opium trade in the 1830s.
River of Smoke
is the second volume of a proposed trilogy. The first,
Sea of Poppies
, published in 2008, took us along the Ganges and to Calcutta, where the poppies are grown and the opium processed.
River of Smoke
follows the story through to Canton in China, where the opium is sold. The Chinese authorities are trying to prevent illegal imports of the drug, which has inflicted a plague of addiction on the Chinese population while making empire-sized fortunes for the irrepressibly shameless traders, mostly British.
In historical novels the past can sometimes feel tamed; hindsight, hovering just off the page, tells us that we know what it all added up to and what came of it (the First Opium War, during which British gunboats enforced a treaty opening Chinese ports to international trade, comes shortly after the ending of this novel). But Ghosh's novels somehow succeed in taking us back inside the chaos of when "then" was "now". His grasp of the detail of the period is exhaustive – he is so thoroughly submerged in it – that readers can't possibly remember all the things he shows them, or hold on to all the life-stories of all the characters he introduces. Both novels are cabinets of curiosities, crowded with items that hold a story of their own.
We get a moment's glimpse in
River of Smoke
, for example, inside a ship's cabin – and Ghosh can't resist explaining how a copper tub is "attached ingeniously to the ceiling, with removable trivets". Bahram, the Parsi opium trader from Bombay, whose story is the primary focus of the novel, likes to eat "a Xinjiang specialty called a samsa…": "these were small triangles of pastry, stuffed usually with minced meat: baked in portable Uighur tandoors they were sold hot in the Maidan . . . and were spoken of familiarly by their Hindusthani name – samosa". Every element, no matter how small, in the novel's world opens up to reveal the further worlds stacked up behind it.
Full review at The Guardian.